For my workshops in Amsterdam, look at this Facebook Page:
https://www.facebook.com/StadsrituelenEnTrancedans
Music and dance is at the core of everything for me. I facilitate and organise Dance Meditation and Trancedance workshops in the Netherlands and Belgium.
For your workshop, ritual or ceremony I can provide the perfect soundtrack. Tell me your vision and I will select music that fits the occasion.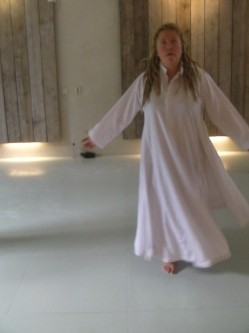 She discovered the magic of music at an early age, but did not feel ready to share her collection with an audience until 2005. She started organising dance meditations and DJ-ing at parties from a desire to let other people experience the beauty of music and the power of movement. Esta, a dancer, a traveller, a seeker and yogi loves to combine ethnic and ritualistic music with electronic beats.
As Esta was growing as a DJ, she discovered that music can enhance everything you do. Sometimes it has to be gentle and supportive, like in meditation or rituals. Some times it needs to challenge and awaken the dancer, the mover in us. Polyesta's intention is to provide the best music suited for any occasion.
She played at many big clubs festivals in Europe and India, tiny studio's and workshop spaces around the world and everything in between. "Everyone deserves great music"
"Music, dance, meditation, trance and yoga are all ways to get closer to the self. Music supports the flow and helps you to empower what is needed and helps you flow through what is difficult or painful in the exercise or ritual. "
"Music is healing. The search for great music has taken me on a path of discovering ancient music from around the world and closer to home in Europe. Studying about and training in ancient rituals like dervish whirling and trance dancing, thought me about the healing power of movement to music. At home, in the studio, at a party, it's all really a celebration of the soul. We go out of our heads, into our bodies and we can experience oneness.
For my workshops in Amsterdam, look at this Facebook Page:
https://www.facebook.com/StadsrituelenEnTrancedans

http://www.mixcloud.com/EstaPolyestaMeditationsDance
Under the name Esta I make mix-tapes for Yogi Tunes.
This is a company that offers mix tapes for yoga, meditation, massage etc. The have a extensive catalogue for the yogic life style.
Check out Yogi Tunes
http://www.yogi-tunes.com
and my page at Yogi Tunes that is still growing.
( click the button below)


For people who are interested in music for Trancedance, Music Mosaic is a great label for tribal and meditative sounds.
http://www.music-mosaic.com